Ascend is a Free Responsive WordPress Theme with a minimalist and beautiful look that will meet all the needs of your various types of websites. With this theme you can display your project portfolio in any form in layouts like grids and lists. This theme is truly versatile as it has three different styles on the homepage, complemented by an animated header or slider, carousel for products online store You, and a clean and flexible interface. The ascend theme comes with a variety of excellent features that are usually only found in premium versions of WordPress themes.
Ascend is a popular theme that is widely used by WordPress users and is available for free in the official WordPress.org themes repository, this theme was created by undoubtedly developer Kadence Themes who has created four WordPress themes with various attractive designs such as Pinacle WordPress. Themes, Virtue WordPress Themes, Virtue Bold WordPress Child Themes and Ascend WordPress Themes which I will discuss here in full.
Ascend Themes Key Features
Below are some of the excellent features that you can get when using the Ascend theme, the features brought by Ascend themes are cool features and usually features like this you can only find in premium or paid version themes, and here is the list: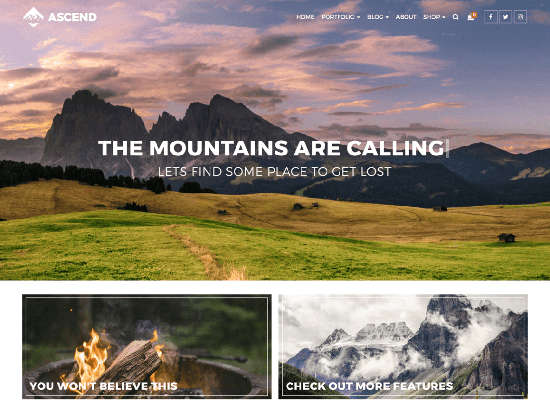 Powerful Store : The Ascend theme is equipped with features that can support the WooCommerce plugin well, this means that by using this Ascend theme you will be able to create an attractive and beautiful online shop site that is ready to compete with other online stores. Your products will be displayed neatly like a professional online shop.
Gallery Glory : The Ascend theme has a well-displayed and beautiful gallery view with several gallery view options, this will be great for captivating your potential clients when looking at your portfolio or projects. Currently there are three styles for portfolios namely normal style, nor margin style and margin style.
Typography : The Ascend theme comes with a typography feature where you can set the fonts on your site both in terms of font size, font weight, font spacing and font family. These features make web designs look great and really have a big impact on the feel and style of a site. You can set every area of ​​your website with Ascend Themes with a wide selection of font styles to your liking and it supports more than 800 popular google fonts.
Header Styles : With the ascend theme's built-in header styles you can easily match and optimize your site's navigation. It also includes many options for rearranging the header to match what is appropriate for your content and design. Plus you get really great premium features like enabling sticky headers, headers that shrink when the page is scrolled and custom mobile header options.
Blog Styles : The look of your blog is beautifully customizable whether you have a lot of images or none at all, Ascend Theme has created a unique way to be able to display a list of blog posts on your site. You can use standard formats, images, galleries, videos or quotes and display your blog pages in list or grid views. This ascend theme will really give you full control to make your blog match content.
Custom Build : The Ascend theme supports the Page builder plugin which will give you an easy way to create a variety of unique layouts to your liking without needing to touch code. This theme recommends SiteOrigin Page Builder as a tool to easily create sophisticated page layouts with just drag and drop.
One Click Demo Import : The Ascend theme has an easy way to setup the site according to the demo displayed, you only need to do one click demo import, the theme will automatically appear as in the demo view and you only need to make edits to suit your content. This method will help you quickly setup your website with the Ascend theme.
Responsive Design : The ascend theme supports responsive design so that your website will look perfect on various screen sizes such as desktop, tablet or mobile. Various design layouts have been customized and your website will appear beautifully on various devices.
Customize Everything : The ascend theme comes with a customize feature which means that you can easily customize the appearance of the theme so it matches what you want. It all depends on your imagination.
Support : The ascend theme has great expert support and their development team is always ready to help you when you encounter any theme issues. The team is always active in helping solve user problems.
Trnaslation Ready : The ascend theme supports multilingual plugins like WPML and Polylang, here is a list of popular plugins for multilingual websites. There is native support for the RTL languages ​​and they can all be translated.
SEO Optimized : The ascend theme is built with good code and follows SEO best practices, this means your website will be ready to compete for first place in search results like Google.
Optimized for Speed : Ascend theme is built by great developers, they are creating themes which are optimized for speed. Your website will appear quickly when accessed by users and this theme supports the best speed techniques.
Work With All Plugin : The ascend theme works fine and will have no problem with various plugins. All popular plugins support this theme, so you don't have to worry about getting into trouble when using plugins alongside this theme.
Documentations : Kadencethemes provides complete documentation for its WordPress themes, this will make it easier for theme users to setup themes. And here is the complete documentation for the Ascend ⇒ theme Ascend Documentations.
Read: Kadence Blocks – A Feature-Packed Plugin To Get The Most Of The Gutenberg Editor
How to Use Ascend Themes
To start using the Ascend WordPress Theme, first, please login to your WordPress admin area and enter the menu section Appearance »Themes» Add New. Please type keywords for the theme name "Ascend" in the search field at the top right of the page.
After that, the page will display several WordPress themes that contain these keywords and please choose a WordPress theme that matches the name "Ascend" and click the "Install" button.
After the Ascend theme is installed, the next step is to activate the Ascend theme by clicking "Activated". And you will see the Ascend theme activated for your website. At the top you will see a notification suggesting installing the default Ascend theme plugin with the name "Kadence Toolkit". Please install and activate the plugin.
If the above steps are finished, now you will see a new menu in the Appearance section called "Theme Options", please enter that menu and you will see a page to adjust everything for Ascend theme settings. You can set the home layout, logo, header, product, blog, portfolio, footer and many more.
If you find it too complicated to set up the Ascend theme from scratch, there's a faster option to import the demo so your website will quickly look like the Ascend theme demo. To do this you have to install and activate a plugin named "Kandence Importer".
After the plugin is active, please enter the menu Tools »Kadence Importer and you will see some demos displayed such as Base demo, Gallery Demo, Blog Demo and Shop Demo. You can choose one and click the "Import" button. And wait a few moments for the process to finish.
Now you can see the appearance of your website which already has the appearance and layout of the Ascend theme demo. For customization, you can go to the "Theme Options" and change the demo content with your own.
That's a complete explanation of the free WordPress Ascend theme from kadencethemes, both features and how to use the Ascend themes. Besides the free version, Ascend theme also provides a premium version theme at a fairly affordable price of $ 45 / year. The price includes unlimited website usage, one year of support and updates as well as the Ascend premium theme. The premium version of Ascend themes certainly has more features in it. You will really be spoiled by the variety of features that are brought specifically to make your website appear more perfect and versatile for various purposes.
Kadence Themes also offers a Membership package at a price of $ 75 / year, and with this membership account you can access all Kadencethemes' themes, support and updates for one year and also include plugins. You can get the premium version of Ascend theme directly through the official website https://www.kadencethemes.com or click the button below.
And above is a complete review of the free Ascend WordPress Theme that you need to try to meet the various needs of your website. Hopefully this article is useful and good luck 🙂
Read: 10+ Plugins For The Best and Free Gutenberg Block Editor
Ascend Theme


Design –

86%


Responsive –

100%


Colors –

80%


Animation –

84%
87.5%
Summary
Ascend is a Free Responsive WordPress Theme with a minimalistic and beautiful look that will meet all the needs of your various types of websites. With this theme you can display your project portfolio in any form in layouts like grids and lists