Get to know Jualo.com Indonesia's Online Buying and Selling Site – Maybe many of us still don't know the e-commerce site buying and selling online which has the name Jualo.com with the tag "Safe Buying and Selling Solution for Used Goods"Yes, Jualo is one of the buying and selling sites. I myself know this site from the kick andy event that brought in CEO from Jualo who was inspiring because of his high social concern. The Jualo site appears to compete with other online buying and selling sites such as olx, lazada, Bukalapak or Tokopedia, this shop focuses on used goods as stated on the site tag, but you can also find new items at online store this.
The Jualo.com site is under PT. Jualo which has an office in West Jakarta to be precise Wisma Barito Pacific 6A Floor – Jl. S. Parman kav 62-63 Slipi is a used goods buying and selling marketplace that focuses on distance based buyers (geo-search function). Apart from being an online buying and selling site, jualo is also a site that provides an attractive feature for its users, namely users can exchange and bargain for goods.
Before discussing further about the site, let us get to know more about the founder of the inspiring site Jualo.com, the story of the founder is what made me want to write about jualo without paying anything. I hope this article is useful and helps Jualo to be more successful and the Peduli Anak Foundation. .
Founder of Jualo
The founder of jualo is named Chaim Fetter, as we know a name like that is certainly not a native Indonesian but comes from the Netherlands. At the age of 16, Chaim was able to create his own trading site and at the age of 23 Chaim started his career as a successful technopreneur and already had everything in terms of material matters. But with the establishment that he already has, it doesn't mean that much, Chaim still feels that there are things that are still lacking in his life.
Chaim finally made a trip to various countries to find what he was lacking, and in the end Chaim arrived at Lombok, Indonesia. Initially, he just wanted a vacation. But fate said differently, he fell in love and wanted to stay longer in an area that has a row of seductive beaches. This makes Chaim's life change drastically and becomes more meaningful with his desire to do many things for many people. Chaim himself when he came to Indonesia did not have a religion, and in the end Chaim became a convert to Islam and studied with religious leaders in Lombok and began to frequently attend events at mosques, Friday prayers, fasting and Eid.
Not only that, Chaim's journey, not only finding faith in religion, the founder of this jualo saw many street children begging in Lombok and Chaim felt sorry for finally inviting the street children to go to school and buy books, Chaim paid for them for a year. Then Chaim returned to the Netherlands and sold the e-commerce company he owned in the Netherlands to then live in Indonesia and carry out his dream of building a foundation for street children.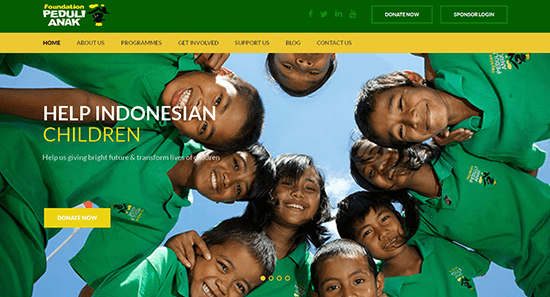 This noble intention began with renting a house. It turned out that Chaim's charity activities were covered by Dutch TV stations, and finally got donations from around 7,000 donations he received. This capital was used by Chaim to buy 1.5 hectares of land in Lombok to establish a Child Care Foundation which has two schools – a primary school and a skills school – three dormitories (orphanages), a prayer room, one clinic, one office, including a swimming pool in 2006-2008.
If you want to make a donation to the child care foundation that Chaim founded you can visit the site: http://www.pedulianak.org/
and submit your donation.

About Jualo.com
As I explained at the beginning of the previous paragraph, Jualo is a free and trusted online buying and selling site in Indonesia. The Jualo site carries E-commerce with the C2C type, namely Customer to Customer, Sites like C2C in Indonesia that are already well-known include olx, Bukalapak and Tokopedia, what makes it different is that Jualo has features of exchanging goods and bargaining. What's interesting is that there are new services to make transactions even more exciting, namely Buy now, pay later. You can use this service if you want to shop at Jualo but the funds are not sufficient or ready. You can find this service when you make a payment transaction. Jualo collaborates with Kredivo to make it easier for Jualo users to make payments for items they want to buy but have insufficient funds.
With this service, you don't need to worry anymore if you don't have enough funds to spend. You just need to use this service easily and quickly then you can pay the bill 30 days after the transaction
Jualo's site you can visit at https://www.jualo.com/, Jualo is considered a safe site because to become a trusted or verified seller you must verify by uploading 2 valid identities, namely Scan of ID / PASSPORT and Scan of Bank account / NPWP / Marriage Book / Family Card / PLN Bill and SIM.
In addition to security features through verification, Jualo has the Jualo Dompet feature. The Jualo Dompet feature is a feature that will make it easier for you to make transactions on Jualo.com, both as a buyer and as a seller. Jualo Wallet is a virtual wallet (e-wallet) that is owned by any Jualo user that functions to save funds from sales (remits) and the results of transactions (refund). Jualo Dompet can also be filled and used for payment transactions at Jualo.
The benefits of Jualo Dompet are as follows:
Speed ​​up the refund process (refund).
Speed ​​up the transfer of funds to the seller (remit).
Providing an alternative payment method that is easier & faster.
With this Jualo Dompet feature, if your transaction is rejected by the seller, or there are sales results from your online shop, the funds will not go directly to your account but the funds will be topped up to your Jualo Dompet account.
But don't worry because the funds in Jualo Dompet can still be disbursed to your account, or you can also use it to shop again at Jualo. You can easily withdraw funds from Jualo Dompet to your account provided that the minimum amount reaches 25,000 and withdrawals can only be made once a day. And Jualo also has an RekBer system that is 100% guaranteed safe and fast, namely Jualo Escrow, for shipping goods, Jualo collaborates with several delivery service goods such as JNE, Tiki and also buyers can take their own goods or COD.
Above is a little of my review regarding the online buying and selling site Jualo which hopefully is useful and helps you add information before buying and selling on Jualo.com. Hope it is useful. 🙂