Do you currently have a website for an online business that offers services or sells something? If so, then you will need a payment confirmation form on your website.
In this tutorial, I will continue from the previous tutorial, namely How to install Contact Form 7 . Now I will create an example of using contact form 7 to create an online Payment Confirmation Form on your WordPress site, hopefully this form will help make it easier for your clients when they want to confirm payments made.
To create a Form with Contact Form 7, besides installing the plugin, it is also recommended to install a plugin Contact Form DB & Contact Form 7 Datepicker
How to Make a Payment Confirmation Form
The steps are as follows:
Enter dashboard and click menu Contact -> Add New -> Type the name of the Form

Create a new field for the information column that will be requested from customers such as column: Name – Email – No. Invoice – Amount Paid – Bank – Owner – Date Paid – Message – Submit
Here's how to generate the Text Field and Drop Down menu, because I think the others are possible, so I will give 2 examples of generation as shown below: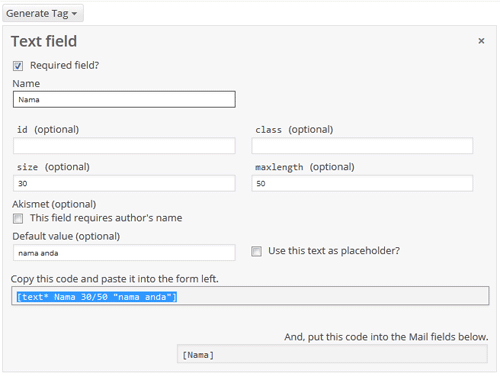 Generated Tag Text field

Generated Tag Drop Down Menu
For the tar blue block copy it to the left column of the form and for the tag below, paste it in Message body under it.
And here are the settings for email notifications that the website owner will receive and a confirmation copy for the sender:
And that's how the making of the payment confirmation form has been completed, to see how to copy the tag so that it appears on the website, see the previous post on How to install Contact Form 7