Clean WordPress Database with Advanced Database Cleaner – Is your WordPress site very slow to access? There are a number of common things that are commonly done to optimize the performance of a WordPress site so that it can be accessed quickly and ultimately increase your site's ranking in search engines. Some of these things are as follows:
If you apply the 4 things above, you will have a WordPress site that is fast accessing and will be liked by your visitors. But if in a few months or maybe a few years your WordPress site is running and has decreased speed even very badly even though you have implemented the optimization and used the suggestions as above, then it could be because your database is not working optimally.
There are several plugins that you can use to optimize the performance of your WordPress database such as WP-Optimize and WP Sweep. However, these two plugins only work to optimize the database in general, in contrast to the plugin I will review in this article, namely the WordPress Advanced Database Cleaner.
What is Advanced Database Cleaner?
Advanced Database Cleaner is a useful plugin for cleaning and optimizing your WordPress database so that it can work optimally, has a lean size and it will clean up useless databases and tables.
As I said above that other database optimization plugins can only optimize databases in general, but the advantage of Advanced database cleaner is that it can detect useless databases and database tables and then delete them.
In running a WordPress site, chances are that you often test using several plugins and then uninstall the plugins, and when the plugins are uninstalled there are some plugins that really don't delete the whole data and especially the database.
This will make your database bloated and useless which will result in the slow performance of your WordPress site. Apart from that, Advanced Database Cleaner can also clean up databases containing revisions, drafts, spam comments, Orphan options, Orphan tables and others.
Advanced Database Cleaner Features
WordPress plugin Advanced Database Cleaner You can use it for free and can be downloaded at WordPress.org. However, the free version doesn't allow you to repair tables & tasks.
If you want to get the full features of the Advanced Database Cleaner plugin, you can buy Advanced Database Cleaner Pro at a very cheap price of $ 29.90. And here is a comparison between several WordPress database optimization plugins with Advanced Database Cleaner.
A: Advanced Database Cleaner (premium)
B: Advanced Database Cleaner (free)
C: WP sweep
D: WP-Optimize
E: Optimize Database after Deleting Revisions
F: WP Clean Up
Here are the different features offered by the free and premium versions of Advanced Database Cleaner:
Free version
Delete old revisions of posts and pages, Delete old auto drafts
Delete trash posts, Delete pending comments, Delete spam comments, Delete trash comments
Delete pingbacks, Delete trackbacks
Delete orphan post metadata, Delete orphan comment metadata, Delete orphan user metadata, Delete orphan term metadata, Delete orphan relationships, Delete expired transients
Display and view orphan information before performing database cleanup
Search & filter all items by name or value
Schedule database cleanup to run automatically
Displays database table information such as number of rows, table size, etc.
Optimize database tables (This plugin will notify you if any tables need optimization)
Repair damaged database tables, clean and delete database tables
Show options list and clear and clear options
Show cron task list, clean and delete scheduled tasks
Pro version
The options classify according to their "creator". They can be: plugin options, theme options or WP core options.
Detect and remove Orphan options. Your 'wp_options' table may be full of Orphan options and thus it could affect the data loading performance of it, which can cause the website to slow down. Clearing the orphan options becomes important.
Classify database tables based on their "creator". They can be: plugins table, theme table or WP core table.
Detect and delete Orphan tables. As for options, you may also have some orphan tables created by plugins / themes that you don't use anymore. Cleaning the orphan table will reduce the size of your database.
Classify all cron tasks according to their "creator". They can be: plugin cron tasks, theme cron task or WP core tasks.
Detect and delete Orphan cron tasks. After you delete a plugin / theme, some of its cron tasks may still be active causing WordPress to call unknown functions. using pro version, you can detect and clean orphan task
Search & filter options, filter table, and filter cron tasks based on several criteria such as "name", "creator", "value", etc.
Get premium support: The team behind the Advanced Database Cleaner plugin will provide fast support as well as technical answers to help you clean your database efficiently
How to Use the Advanced Database Cleaner Plugin
Here I am going to share complete steps you can take to clean and optimize database by deleting Orphan tables & tasks and cleaning WordPress database & increasing the overall performance of my WordPress blog!
URGENT: Before you start using this plugin, you must backup your WordPress database. You can use the WP-DB Backup plugin to complete database backup or search for other plugins.
By creating a backup, it can be used again in case of errors and crashes that result in your WordPress site not running.
So, now that you have backed up your WordPress database, let's start using the WordPress Advanced Database Cleaner plugin.
You can get the pro version of the Advanced Database Cleaner plugin here. You can also use the free version by following this guide, but only for basic optimization. However, the deep optimization feature only comes with the premium version. And here I will make a special tutorial for the Pro version.
Now please install the plugin & activate it. You will see a new menu item added in the left sidebar with the name "WP DB Cleaner".
Click the menu and click on the menu tab "License". Enter the license key and click the button "Activate license".
General Clean-Up
Click on the tab "General Clean-UpAnd tick what you need to get rid of. I suggest following the image below.
Urgent: Make sure you uncheck "Drafts"&"Pending comments". Because those are posts that you still save as drafts and comments that you haven't approved of.
From the drop-down menu, select "Clean"& Click"Apply".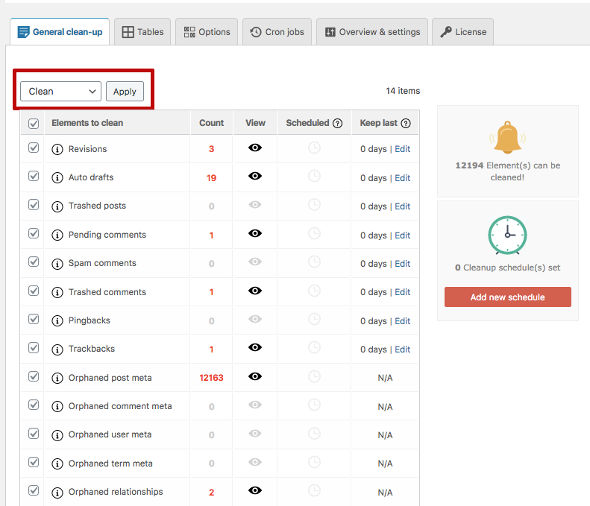 When the pop-up appears, click "Continue" & in a few seconds, this powerful database optimizer plugin will clean up your database.
Tables
Open the tab "Tables"To start the process of finding the orphan tables.
Click "Scan tables"& The scan will take some time depending on the size of your database.
When finished scanning tables, you will start to see the Orphan Table displayed, and select it Orphans at the top to filter only shows a special Orphan table.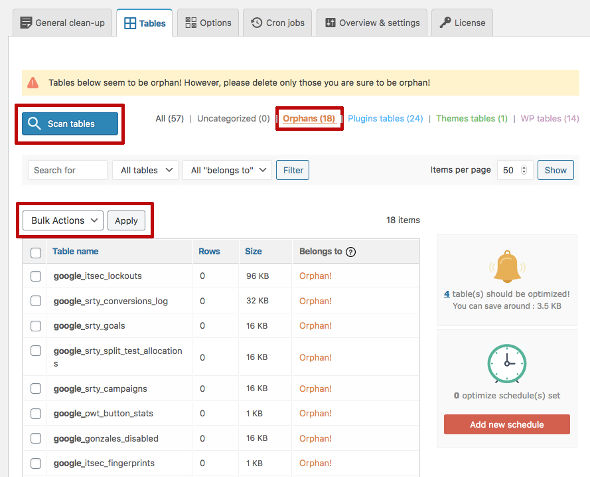 Most of the table names are based on plugins you have used in the past, so it will be easy for you to decide whether you want to delete the table. If you are unsure, then simply delete the ones you believe in.
After that please tick what you want and Delete then click Apply.
Once you are done cleaning up Orphan Tables, it's time to move on to orphan options.
Options
Click on the tab "Options"& Click on"Scan options".
If you are scanning an old blog database, you may find that many orphans options are displayed. For example, my blog has about 326 orphans options. That many tables were created by plugins that I used in previous years and I no longer use them.
After that, I checked all and select "Delete"And"Apply".
Cron Jobs
When finished, click on the tab "Cron jobs".
Please click Scan Tasks and choose Orphans at the top. Choose "Delete"And"Apply".
And that's all the things you need to do with the WordPress Advanced Database Cleaner plugin. After doing all this, your database will be completely cleaned up & you should be able to see a difference in the performance of your WordPress blog.
Cleaning up your WordPress blog database is an important part of optimizing your WordPress site to improve WordPress performance so that it is faster. This is one of those activities that WordPress users rarely do and you should do this to get your WordPress site up and running quickly. Hopefully this article is useful and good luck. 🙂