VirtualBox is a virtualization software that can run one or more operating systems (OS) simultaneously. With VirtualBox it is as if we can create a new computer (virtual machine) and install it with any OS we want (Guest OS) without disturbing the main OS that we use.
Basically, the OS installation using VirtualBox is almost the same as the installation in general, it only takes a few touches on VirtualBox so that the OS we install can run as we expect.
VirtualBox is very useful for anyone who wants to learn to use a certain OS or learn a network that is constrained by not having more than one computer device, because with one computer device you can install several computers on a computer with virtualbox.
Below is a simple topology which we will use later for installing Centos 7 in VirtualBox.
Internet connection comes from the Access Point with IP 192.168.0.1/24
The main OS uses Ubuntu by IP 192.168.0.100/24
Linux Centos 7 Minimum installed in VirtualBox with IP 192.168.1.105/24
If physically without using VirtualBox, the topology will appear like this.
Internet connection comes from the Access Point with IP 192.168.0.1/24
Linux Centos 7 as Server with IP 192.168.1.105/24
PC 1-3 will later act as a client, with IP still on the same network 192.168.0.X/24
Here are Step by step Install CentOS on VirtualBox as follows.
Make sure Computer or laptop we have got an internet connection from the Access Point, either statically or DHCP.
Download and Install VirtualBox first. We can get it on the official site or if we use linux, VirtualBox is already available in the software manager / software center.
Download ISO Centos 7 minimal version (no GUI) on the official website https://www.centos.org/download/. Here I am using the DVD version, because I already have one. hhhe .. the difference is there are many versions of the DVD, including the minimum version is also in it.
Determine the operating system that we will install, namely Install linux CentOS 7. Click New → Fill in the Name, Type and Version
Set the memory that we will use. We can adjust how much RAM will be used. Maximum RAM is installed on our PC or laptop. It's better not to be too big, because RAM will later be divided (for VirtualBox and the main OS + the application we are using). Here we will use the recommended memory automatically by virtualbox.
Because we don't have hard disk capacity before. We will create it by selecting the option "create a virtual hard drive now" with the standard virtual box extension type, namely VDI.
Furthermore, in this option we select "Dinamycally allocated" so that the virtual hard drive can be enlarged or shrunk automatically according to the capacity used.
As recommended in step 3. 8GB capacity is enough for the installation of Centos 7. then we will select create.
After everything is done. we continue by selecting the settings menu (gear icon), or right click select settings
On the System menu, we will set the processor to be used. Adjust to the specifications of the computer or laptop that we use. As with the RAM and hard disk earlier, later the use of the original processor will also be divided to run the virtual OS.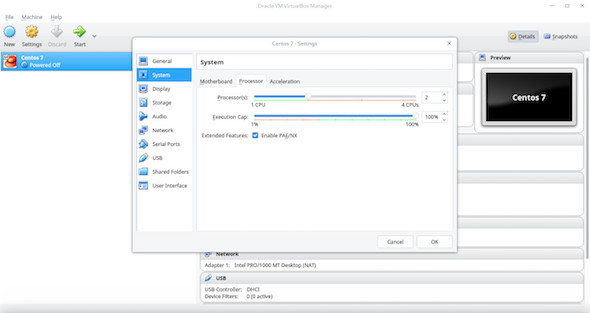 Continue on the Network menu. Because our internet connection comes from wireless, not cable (see topology above) then we will choose an option bridge adapter, name wlan0 (adjust the interface name of your computer / laptop) then click the refresh icon.
Disable Audio if needed.
On the Network menu. Select the ISO file that we downloaded earlier. Then end the VirtualBox settings dialog by clicking OK.
Then click start to start the Centos 7 installation process
Select Install CentOS Linux
Select the language we want to use. then next
Then enter the Installation Summary.
A. LOCALIZATION
– Date & Time: Adjust to the time where we live
– Language Support: English (US)
– Keyboard: English (US)
B. SOFTWARE
– Installation Source
– Software Selection
Because the ISO that I downloaded earlier was the DVD version, the software selection has several versions according to your needs. The recommendation for us beginners is the minimal version, because here we will find out the basic structure of Centos and its applications in various needs.
C. SYSTEM
– Installation Destination
Select the virtual hard drive that we created in VirtualBox. In Other Storage Options, here we choose Automatically configure partitioning, which will create a partition automatically.
We continue by clicking the done button above.
– KDUMP enable
– Security Policy (I left the default, I didn't change it)
– Network & Hostname
Click Configure. Adjust the network settings with the topology that we use above. In order for the status to be connected (connected), the IP that we enter must be a network. Also enter the IP Access Point as a gateway. After everything is done, click OK.
ON right and make sure the status changes to connected. If still not, check back on the network configuration.
If at this step we are not connected to the internet, then network configuration can be done after the installation process is complete.
Furthermore, for the hostname, we can change it if needed. After everything is finished, click Begin Installation.
The last step is to provide a password for root and create a new user.
After all is done, Reboot and the display will appear as below. Enter the user "root" and the password that has been created if you want to configure it further.
In order to connect to the internet, and be able to perform its functions like a server, it takes a little configuration in Centos.
Read: Complete Guide: How to Install Linux Ubuntu 18.04 LTS Desktop
That's the explanation about how to install at least Centos 7 linux in VirtualBox. If you experience problems in the installation process. Please try again, maybe there is an error you did that was not in accordance with the method above. Good luck and good luck 🙂