How to Disable Ads and Suggested Tiles in the Mozilla Firefox Browser – Mozilla Firefox is a browser that is widely used because it has thousands of add ons and many developers like this browser, I personally also use this Mozilla Firefox browser to surf the internet and do activities blogging.
But at the emergence of the latest Firefox version 40, Firefox brings a feature called Suggested Tile, of course you can find this feature if you have updated Mozilla Firefox to version 40 or above. And this feature for some people is of course annoying as well as I personally feel annoyed by this feature.
The Suggested Tile feature in mozilla firefox will display a boxed display when you first open the Firefox browser, in this box display contains a list of history of your browsing activities, and also inserts advertisements in several other sections marked with the words "sponsored" as shown below:
In this article, I will provide a tutorial to disable or disable the Suggested Tile feature in Mozilla Firefox, so that when you use the Mozilla browser the display doesn't bother you and your Mozilla browser is clean.
How to Disable Mozilla Firefox Suggested Tile Ads:
If you don't want to see Mozilla's suggested sites on the new tab page, below is how you can disable or even turn them off.
1. Open a new tab or new tab of your mozilla firefox browser, and see the shaped icon Gear located on the top right, and click the icon and a pop up menu will appear. Then uncheck 'Include suggested sites'.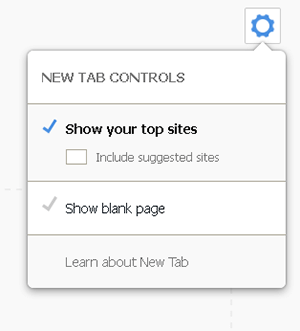 2. Next, if you want to completely remove these features so that your Mozilla Firefox is really clean, please select the second option, namely by checking "Show Blank Page".
3. Please see the results of the settings you have selected, see the difference between the two.
Above is a tutorial for disabling suggested tiles or ads that appear in the Mozilla Firefox browser, please try and hopefully this simple article is useful for you. 🙂