Easy Ways to Create Tables in WordPress. Basically WordPress already comes with a good visual post editor and almost complete, but there are certain features that are not there yet, and one of them is the feature to create tables.
Some users do not need this feature, and that may be why WordPress does not provide table features in its visual editor and also to maintain a simple and simple visual editor according to the most functions used by users.
However, if you want to create tables in WordPress, it's really easy. Because so many plugins can help you make that happen. One of the most popular plugins that are currently being updated to create tables in WordPress is TablePress.
In this article I will show you an easy way to create tables in WordPress without html with the TablePress plugin. Please see more about this guide.
When do you need to create tables in WordPress?
Tables are important tools for sorting and presenting information in data. Although you can actually create tables manually by typing HTML and CSS code in your posts, it is not an easy choice for many WordPress users, especially if they are not knowledgeable about HTML and CSS code.
In addition, you need to use tables in WordPress when you want to display data that is neatly organized with specific sections according to a list. For example, maybe you want to display price table lists, value lists, comparison lists and much more.
What is TablePress?
TablePress is a WordPress plugin that allows you to create and manage beautiful tables with ease. It can even be said to be a plugin that has simple settings and is very easy for even beginners. You can embed tables into posts, pages or text widgets with a simple Shortcode. Tabular data can be edited in a spreadsheet-like interface in excel software, so no coding is required at all.
Tables can contain all kinds of data, even formulas that will be evaluated. Additional JavaScript libraries add features like sorting, pagination, filtering and more for site visitors. Tables can be imported and exported from / to Excel, CSV, HTML, and JSON files.
TablePress is also a very popular plugin in the WordPress.org plugin directory, when I wrote this article it was used by more than 700 thousand users with millions of downloads and received positive reviews and a very high 5 star rating. This proves that the TablePress plugin is the best choice for WordPress users to create tables in WordPress. You also need to try it now…!
How to create tables in WordPress with TablePress
To create a table in WordPress, please download, install and activate the plugin TablePress. You can type the keyword 'TablePress' in the plugin search field in your WordPress admin.
After your plugin is activated, a new menu item named "TablePress" will appear and click Menu Tablepress »Add New Table. This will take you to the "Add New" tab.
After that you will see a simple column like the image below. And please provide a name and description, and also specify the value in the "Number of Rows" with the number of rows and fill in "Number of Colums" with the number of columns you want.
Don't worry, you can always add or remove columns and rows from the tables you create, while entering data or by editing the tables later. Click the "Add Table" button when done.
It is a table editor where you can add data to your tables. You can also add and delete columns or rows. All rows and columns can be dragged and rearranged.
At the bottom, namely "Table Manipulation", there are several features for adding links, images, adding rows and columns. And another interesting thing is you can also divide or join columns with rowspan or colspan.
Furthermore, in the "Table Options" section, you can specify the top or bottom table as the table header, add a background to the table and there is also an option to add your own CSS class.
And finally in the "Features Data Tables" section, you can activate or deactivate the sorting, filter, search, page division, and scrolling options.
After you have finished creating the table in these settings, now save your table by clicking the "Save Changes" button. And you can start adding this table to posts or pages on your WordPress site.
Attaching Tables to Posts or Pages
There are two ways to attach and display a table in a post or page on your site. First, you can directly copy or copy the shortcode code from the table that you created earlier and paste it in a post or page on your site.
And secondly, please open an existing post or create a new post to insert a table. If you are using a visual editor, you will see a table icon added in your visual editor. Please click the "Insert a Table from TablePress" button and it will open a pop up which will display a list of table names that you created earlier.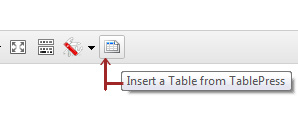 Select an appropriate table name and press the "Insert Shortcode" button, and it will add the shortcode to your post.
If you don't use a visual editor, then you can enter the shortcode manually. Click on the TablePress menu item, and it will display a list of the tables you have created. how to click Show Shortcode, and it will open a pop-up window with the shortcode table. copy the shortcode and paste it in your post wherever you want to insert the table.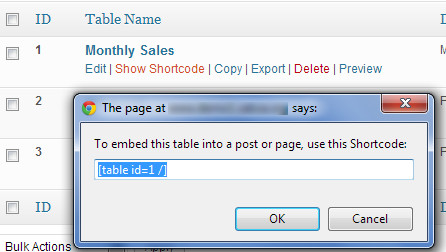 And here are the results of the table created with TablePress and published in the post.
This plugin can also import data from a csv file, a json file, an HTML table and json format. You can import it from the TablePress »Import Table menu.
And you can also export all your tables in CSV, HTML, and JSON formats. You can export the table on the TablePress »Export Table menu.
And that's the complete guide on how to create tables in WordPress with the TablePress plugin. Hopefully the above article is useful for you and as a solution for you in making various tables in WordPress easily without html code and if you have switched to using the new WordPress editor called Gutenberg, then creating tables in posts is very easy and you don't need to use plugins, You can read about the new WordPress Gutenberg editor here ⇒ The Complete Guide to Gutenberg's New WordPress Editor. Good luck 🙂
Read: The Easy Way to Manage Tables in WordPress with the wpDataTables Plugin