Xampp is a very popular web server software used by web users who want to create their own web server locally. The Xampp server software also supports various operating systems such as Windows, Linux and MacOS. And you can easily run a website or a CMS of some kind WordPress, Joomla, Drupal and other types of CMS through this Xampp software locally or offline directly on your computer device. However, for Linux users who try to run Xampp on the OS it is not as smooth as when it is run on the Windows operating system, there are some error problems that occur in Xampp such as Xampp Starting Apache...Fail.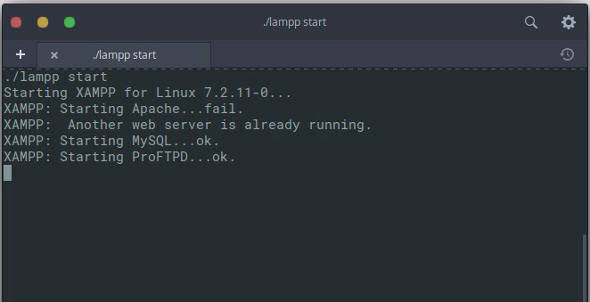 If you don't have Xampp software, you can download it directly through the official website and download the version you want here. Indeed, to run Xampp on Linux is different from running Xampp on Windows. If on Windows, just one installation and xampp can be used smoothly.
Read: Guide on how to install WordPress on PC Localhost [Offline]
However, it is different on Linux, after installing xampp it is not necessarily possible to use it immediately. Sometimes there are still errors that appear so that Xampp cannot run the server, the error is usually as below.
Starting XAMPP for Linux 7.2.11-0...
XAMPP: Starting Apache...fail.
XAMPP: Another web server is already running.
XAMPP: Starting MySQL...ok.
XAMPP: Starting ProFTPD...ok.
The error message you cannot directly access localhost which usually appears is as follows: "XAMPP: Starting Apache...fail". The solution to overcome this is to stop the Apache service first and then run it again. You can try to do this to get Xampp running smoothly on Linux:
sudo /etc/init.d/apache2 stop
sudo /opt/lampp/lampp start
And those are two easy commands that you can do when you experience a failure or error when trying to run Xampp on a linux operating system.
Hopefully this article was useful for you and you can smoothly run the Xampp web server on your linux on localhost and enjoy learning to create websites offline without the need to buy a domain and hosting, good luck and good luck. 🙂
Read: How to install and configure Squid on Linux Ubuntu Server 18.04