How to make a separate blog page from the homepage in WordPress – When you install a new WordPress theme, by default WordPress will display your content in blog format on the homepage (front page) of your site, like this center click also uses a standard layout where blog content appears directly on the front or homepage. But what if you want to create a custom page on the homepage without having to display your blog content on the homepage or the front of your site?
And how about making your blog page separate from the homepage or front page of your website? In this article I will show you how to create separate pages for blog posts in WordPress.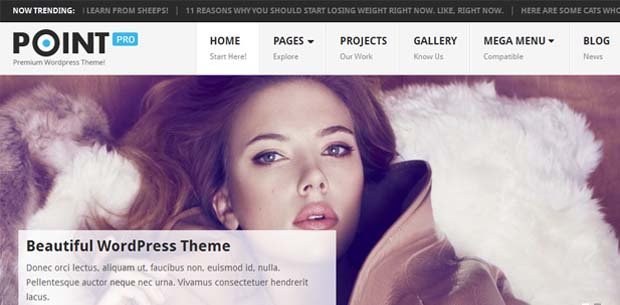 In the settings WordPress is equipped with a menu to set the homepage to be set to a static page and also a separate page to display updated post content for separate blogs.
Creating separate homepage and blog pages in WordPress
If you want to create a static home page and separate blog then you will need to create two new WordPress pages.
The first page will be the page to display your custom static homepage.
The second page will be the page to display your blog posts and will be displayed separately from the front page.
To create a new page, please enter your WordPress Admin area and click Pages »Add New and please fill in the title with the name "Home" and leave blank in the editor to write the contents of the page. Then look on the right side, you will see a "Page Attributes" box with a drop down menu containing a selection of templates as shown below, and for my homepage I select "Front Page Template" maybe if you use another WordPress theme it will have a different name.
Today most modern WordPress themes are made with designs that include a special template for custom pages that can be used for the static homepage of your website. In this tutorial example I will be using the default WordPress theme "Twenty Twelve" which already has a specific template for the static homepage section. After you choose a template for the homepage, the next step is to deactivate the comments column so that it doesn't appear on the homepage. To disable these comments, please click the "Screen Options" menu in the upper right corner of the screen and check the "Discussion" box.
After you checked the "Discussion" box above, now look under your WordPress editor. Then the "Discussion" setting options will appear to allow comments and trackback and pingback settings. Please uncheck both of these so that the comment form is not visible on the homepage. If you have, please click Publish.
Next you have to create a second page to display your blog post as in the steps when creating the first page above, and give the page title with the name "Blog". Many modern WordPress themes come with different templates, and it could be that the theme you are currently using has its own template design for blog pages. However, if you don't find any templates available in your theme specifically for blog templates, then you can select "Default Templates". And don't forget to disable the comment and trackback options on your blog pages too.
After the step of creating two pages for the homepage and for the blog post is complete, then you have to redirect the two new pages to their respective positions. To do this, please enter the menu Setttings »Reading and on the "Front Page Display" you will see two options and please check "A Statig Page" And point "Front Page" to "Home" and "Post Page" point to "Blog". Now save your settings by clicking the "Save Changes" button.
Now refresh your blog and watch the changes take place, you now have a static homepage as well as a blog page that contains your posts separately. If you want to display the blog page in your navigation menu. Please adjust your menu by entering the menu Appearance »Menu and add a blog page to your menu.
You can also see a demo of the tutorial I mean above by creating a separate blog page with a homepage on the WordPress Point Pro theme here. When you visit the demo point pro page, please click "PointPro Default" and you will see a separate blog page with a homepage.
Above is a complete guide to creating separate homepage and blog pages in WordPress. Hopefully the above article is useful for you and good luck. 🙂