Google is a tool used by many people to search various things on the internet, and Google has many useful products for everyone to use for free such as Gmail. Google also has long managed to rank first as the best search tool leaving its competitors, Google controls more than 70% of all internet search engines.
If you use Google search every day, surely you will find quite a lot of secret features. If you don't know what Google's secret features are, in this article I will show you some tricks to bring them up.
15 List of Secret Google Search Features:
The following are the secret features of the Google search engine, you can use the tricks below to maximize your search on Google to be more targeted and get the right information.
1. Search Sites
To use this site search feature, you need to type 'site:' following the domain name you want to search for to make Google only display results from one site only. For example, I type "site: verandalounge.co.uk" or you can also add the keyword after the domain so that only the contents of the site containing the keyword appear, for example "site: verandalounge.co.uk wordpress". So as you can see, in the search results only verandalounge sites appear and match the wordpress keywords.
2. Image Search
Image search on the Google search engine actually has a tool to filter more specific results, for example, I want to search for images from the artist Raline Shah and only faces so I type "raline shah" then after the search results appear I filter by selecting "face" on the menu Search tools. Look at the menu I marked in red.
3. Flight Schedule
Google can also display flight schedules from various airlines, to use this is very easy. If you want to see the flight schedule from Jakarta to Bali, you only need to type Jakarta bali then google will bring up the search results like the one above.
4. Translate Fast Way
Before you go to Google Translator by accessing the url which may take a very long time, then there is a cool feature that you should try by typing 'translate to' in the main search bar. Here is an example, I typed: 'translate the word secret into Indonesian', Google will display the results as shown above.
5. Calculator
You may think that this calculator is a simple one, but in reality, it is much more than you think! Not only is it capable of performing basic mathematical functions, it can also achieve the computation of logarithms, constants as well as functions such as Cos and Sin. This calculator can also help you if you need to translate numbers into binary code.
6. Using General Data
This feature gives you the ability to check trends for population and unemployment rates for different cities and counties. To use it, all you need to do is type 'population' or 'unemployment rate' followed by your desired location. For example, I typed: "population Indonesia" and got results like the image above.
7. Track Your Package
You can keep track of what you buy from eBay through certain websites. With this cool feature, you don't have to enter a tracking number on a shipper's website or a website like UPS or Fedex. All you need to do is type the tracking number of your parcel into a Google search engine, and Google will display all the details you want to know.
8. Seeing the contents of the book
This feature can be found on Google Book Search which gives you the opportunity to browse the pages of the latest classics and magazines. It would be a really good idea if you used this feature before you bought, checked out, or borrowed the book you were looking for.
9. Conversion
Most of us may need this feature from time to time. Calculates the usable currency and unit conversions using the syntax. For example, you can type '100 USD in IDR', '55 F in C 'and many more.
10. Time Zone
The syntax you need to use to view time is 'time in ', it will provide answers regarding the local time and timezone for the place you entered.
11. Weather
To get information about the weather in each city, just type in the city name followed by 'forecast', and Google will display all the information you need, depending on data from The Weather Channel. It also includes rainfall, humidity and wind levels.
12. File Type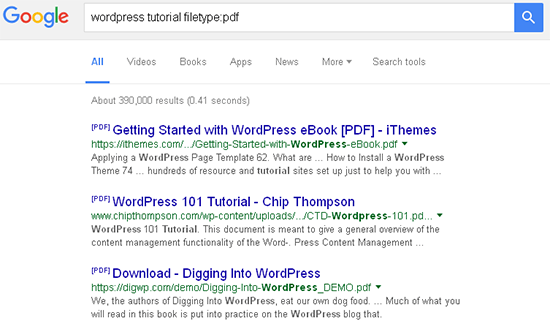 You can easily find a variety of information in various forms of file formats or file types, for example you want to find wordpress tutorials in PDF files, you can simply type in keywords and follow filetye: sample file type 'tutorial wordpress filetype: pdf'.
13. Define
Define is a Google dictionary function that allows you to type and define: terms and get definitions of words. For example you will see a word from singing, you just type 'define: singing' and google will tell you it's a present participle. and will show you the original word of singing itself.
14. Flight Status
To see the flight status of various airlines, you can simply type in the flight number, google will show the flight details and status. So, for example, typing GA 168 then the result reveals that Garuda Indonesia flight 168 departs from Jakarta at 7.50 PM today and arrives in Padang at 9.40 pm local time.
15. Google Destinations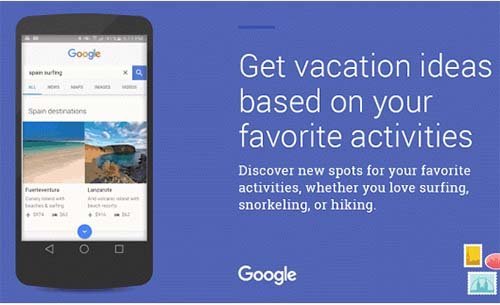 Google has just released a new feature for its search engine, but this feature is currently only available for smartphones, you can easily find your dream vacation with a complete variety of information from hotel information, price information and much more. to use it you just simply type the keyword followed by the word Destinations, for example: Bali Destinations.
Above are the 15 hidden features of google search that you need to know, please try these features one by one and use them in your daily life to make it easier to find various information faster. hopefully useful 🙂